Thursday, January 22, 2015 - 1:45pm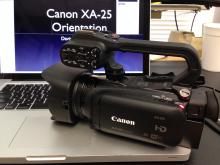 Recently DMA hosted a camera orientation workshop for our Canon XA-25s.  During the hands-on workshop, the following slide presentation was used.  As promised, we have posted it so workshop participants can review it at their leisure. 
Canon XA-25 Basic Camera Orientation Slideshow.pdf
The file can also be found at davismedia.org>About>Forms
A full manual can be found here
 (although DMA makes no guarantees as to its accuracy)
Lastly, below is a summary pdf of what we covered.
*Please note that all this material was supplementary to the workshop and is not a complete course in and of itself.
PS> It has been noted that the XLR cord release mechanism on the XA-25 audio handle can be tricky to operate.  Some XLR cords have a different style of rim latch which (when inserted) makes it seem like the XLR port release lever on the camera is loose or broken.  You simply have to firmly press the latch all the way towards the XLR cord housing to withdraw the cord.  After cord removal, you'll see the release lever is firm and springy again. This was noted with the long, blue taped XLR cord but may happen with others.