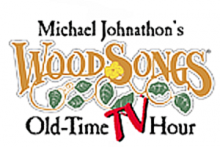 WOODSONGS (Old Time Radio Hour) is the TV broadcast of an internationally syndicated radio program hosted by folksinger Michael Johnathon and recorded before a live audience each week at the historic Kentucky Theatre in downtown Lexington, Kentucky.



The mission of the program is to inspire the audience to make music part of their lives by introducing them to a contrast of styles such as blues and bluegrass, country and Celtic, folk and rock, modern and classical. Interviews with the artists allow the audience to explore the artist's background and discover what inspires them to sing and play.



The TV program allows the viewers to watch the radio show production and experience the event in much the same way as the live theatre audience.