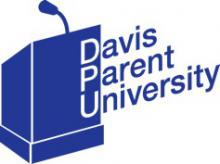 *Scroll down for Videos and PDF summaries of previous DPU Lectures*
Have a Great Summer Everyone!
The DVD of Jennifer Senior's recent lecture will be made available at the library in September.
Community-Wide K-12 Parent Education Collaborative Mission Statement
The Community-wide K-12  Parent Education  Collaborative is composed of representatives from the DJUSD (K-12). Our mission is to provide high-caliber events and programs to our community's parents, caregivers, teachers, and administrators. The committee's scope of work includes the annual Parent University Lecture Series. We strive to assist our PTA's/PTO's in achieving their most important goal, to be a strong advocate for the education and well-being of every child.
Davis Parent University would like to thank this year's generous sponsors:
Chad Demasi - The DeMasi Group/Coldwell Banker Doug Arnold Real Estate
Dr. Richard Mandelaris, D.M.D. 
Ashley & Nancy Yudin
Baciarini's Martial Arts
Avid Reader Davis
Hallmark Inn UC Davis
 
As well as our community partners, the DJUSD Climate Committee and K-12 PTAs and PTOs, the Davis Enterprise, Davis Media Access, and the Center for Families.