Davis Parent University Lecture Series - The Whole Child
A series of annual lectures on parenting, targeting DJUSD parents.
Community-Wide K-12 Parent Education Collaborative Mission Statement
The Community-wide K-12  Parent Education  Collaborative is composed of representatives from the DJUSD (K-12). Our mission is to provide high-caliber events and programs to our community's parents, caregivers, teachers, and administrators. The committee's scope of work includes the annual Parent University Lecture Series. We strive to assist our PTA's/PTO's in achieving their most important goal, to be a strong advocate for the education and well-being of every child.
Videos from the Parent University Lecture Series are available at the bottom of the page.
Davis Parent University would like to thank this year's generous sponsors:
Suzanne Kimmel of First Street Real Estate
Avid Reader Davis
Hyatt Place, UC Davis
Baccarini Martial Arts
As well as our community partners, the DJUSD (K-12) PTAs and PTOs, the Davis Enterprise, Davis Media Access, and the Yolo Family Resource Center.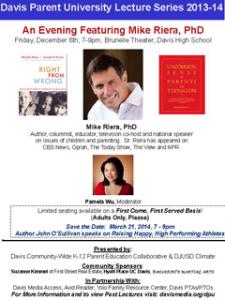 DOWNLOAD THE DETAILED FLIER
or Right click to open in a new tab or window
Friday, December 6th
7-9pm, Brunelle Theater, Davis High School
Mike Riera, Ph.D., Nationally Renowned Speaker & Best Selling Author

Mike's latest book "Staying Connected To Your Teen" is a follow up to "Uncommon Sense For Parents With Teenagers." Mike's philosophy is, "parents need to shift from being managers, to being consultants with their teens." This first lecture will take place Friday, December 6th from 7-9pm. at the Brunelle Theatre on the Davis High School campus. Donations are appreciated and checks can be made payable to the Yolo Family Resource Center (YFRC). Our tax id number is #47-0871252.
Stanford Challenge Success Lecture
Mike's kidsinthehouse.com Videos
Mar 21st:
John O'Sullivan, Best Selling Author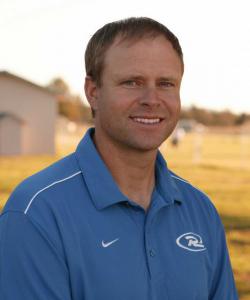 John O'Sullivan will be speaking about "The Psychology of High-Performance." He is the author of the bestselling book Changing the Game: The Parents Guide to Raising Happy, High-Performing Athletes and Giving Youth Sports Back to Our Kids, and the founder of the Changing the Game Project. John travels around the country speaking to schools and youth sports organizations about developing more competitive, high-achieving athletes through environments of love and respect, rather than fear and pressure. He spent nearly three decades as a soccer player and coach at the youth, college and professional level, and is a frequent contributor to publications such as Soccer America and Soccer Wire.