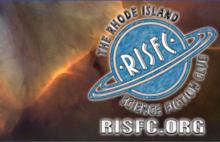 Sci-Fi Journal is a Rhode Island public access cable TV show covering many aspects of Science Fiction, Fantasy, and Horror.
Frequent segments include tv, movie and dvd news, essential SF library, comics, anime, gaming, collectibles, and a roundtable discussion. Plus, there are interviews with favorite authors, artists, publishers, convention coverage, and cool Internet movies, movie trailers, and more.
Sci-Fi Journal has been on the air since January 1996 and was originally a half hour long and aired sporadically in East Providence, until we were able to get on the RI Statewide Interconnect schedule in 1997 where we expanded to a monthly hour long format.
The 4 main hosts of the show currently are Jay Kingston, James Hinsey, Marc Morisseau and Calvin Watts, III who are all members of the Rhode Island Science Fiction Club. Other members may appear from time to time as co-hosts or during roundtables and several members help out the production.
Rhode Island Science Fiction Club www.risfc.org

PO Box 8515

Warwick, RI 02888