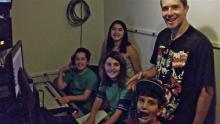 It's mid-June here at Davis Media Access (DMA). which can only mean one thing: Kid Vid! The first of four summer training sessions for kids aged 10-13 is wrapping up. It's been a fun week in which kids have learned basic media literacy and media production skills, gotten their hands on lots of cool equipment, and worked on collaborative projects.
Actually, June means one other thing, and that's the rapidly approaching close of our annual fund raising campaign by June 30, the end of our fiscal year. Our community has been very generous and we approaching almost $17 out of $20k needed. We thank everyone who has supported the fund-raising effort to date.
If you have yet to donate, you may do so online at davismedia.org/donate or by mailing a check payable to Davis Media Access to 1623 Fifth St. Ste. A Davis, CA 95616.
While it's true that we can make $20k go a long way, it's also true that if we don't raise this money every year, we can't continue to provide services at current levels. This money supports a variety of services we provide to our community, but primarily volunteer-driven KDRT 95.7 FM, as well as support for youth media, and local election coverage. Raising this money is not optional: it is critically needed to support the work we do, and we must meet the goal by June 30.
If you have not yet donated: donations of all sizes are valued - be they $5, $20 or more. If you can't give much, please consider donating a little and add your name to our list of supporters to show you believe in the mission. If are in a position to be more generous, please do!
"Free media" actually has very real-world costs (insurance, music licensing, utilities, etc.) DMA gets a lot of positive community feedback about the work we do and the volume of people we serve. Now we need  to translate that support into dollars.
Long live community media,
Autumn Labbé-Renault, Executive Director