Submitted by Lin Weaver on Wed, 06/22/2016 - 8:00pm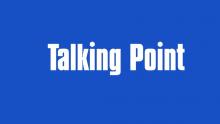 "TALKING POINT with Lin Weaver" is a locally produced series of television shows exploring some of the important themes, challenges, and events of our time.
The show will focus on issues that matter to the community and to the world, whether they are topics of political and social significance, or recent scientific discoveries that have meaning for our lives. 
The producer will seek out people in Davis and in the broader Northern California region who have expertise in those areas. Those people may be policy makers, scientists, humanists, philanthropists, visionaries, and others.
The host will be interviewing them, seeking facts, analyses, and opinions with a view to providing the audience with information, ideas and suggestions to get involved if they so desire.
Examples of the kinds of topics that will pursued include: urgent issues of climate change, gun control, foster care, food waste, new drugs, stem cells based therapies, and the influence of American cultural values on global political and economic matters.
The program will involve both discussions in a studio setting, and/or outside filming, as appropriate.  Each show will be 30 minutes long.
The scope of the show will be broad and responsive to current events.
For more, please check my website: https://linweavermedia.com/